Stay Fit, Reduce Stress, & Belong to a Healthy Online Community, While Supporting Local Small Businesses!
(All From the Comfort of Your Own Home)
Donation Options:
14 Day PhysicallyFit Challenge ($50 Donation) | 14 Day PhysicallyFit Challenge ($100 Donation)
14 Day PhysicallyFit Challenge ($200 Donation) | 14 Day PhysicallyFit Challenge ($500 Donation)
It's a challenging time for local small businesses like ours, but we're here to prove that our community is stronger together.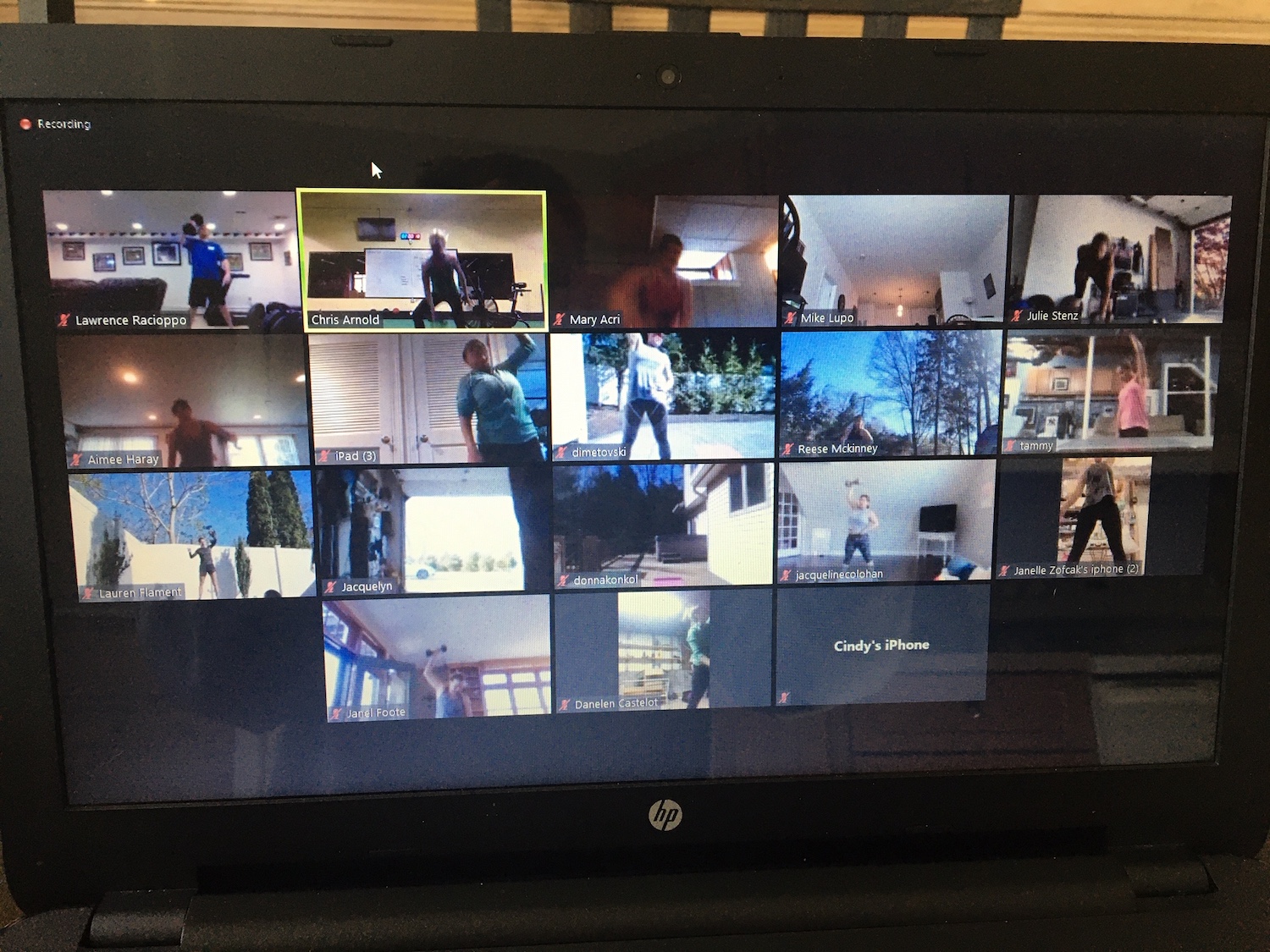 How the 14 Day PhysicallyFit At-Home Challenge Works
Welcome To The 14 Day At-Home Challenge:
1. You make a donation in the amount of your choice. (From as little as $50 to as much as $500)
50% of that donation will be used to purchase gift cards from local small businesses. (Then we'll give the gift card to you, when you complete the challenge.)
50% of that donation will be used to help ensure our part-time coaches receive their regular paycheck.
2. Let's Go Virtual! Get access to our Live Virtual Training Sessions!
Our virtual training sessions allow you to get the same group session experience as you would in the gym.

– You will receive a daily 30-40 minute workout emailed to you EVERYDAY at 6 PM for the following day; designed for at-home training with or without weights using typical household items!

– Unlike some virtual training we warm you up for a kick ass workout!

– You will get a WOD Brief to inform you of the best way to attack the scheduled workout.

– Our live sessions are M/F – 730am, T/TH – 9am, W – 5pm, and Sat – 830am.

– All sessions are recorded, so if you can't make it live, you can do the workouts any time, any place.

– Your kids/significant other are welcome to join you in the sessions. Name a better way to spend quality off time than with family and name a better way to interact than with a Virtual workout!!!
3. You become a part of our PF community
Our relationship doesn't end when the virtual class ends. We would love to have you share with us your successes, ask nutrition questions, send us your sweaty selfies or post anything to our IG or FB page that will help us all become happier, healthier, and stronger.
4. When you attend 6 live virtual training sessions, you choose your favorite local small business and we will use 50% of your donation to buy you a gift card from that business.

It's a truly a win-win-win:
– You stay active and healthy during these crazy times AND get a gift card to your favorite local business.
– Your favorite business gets some much needed cash flow during these difficult times.
– We can support our part-time coaches and have the opportunity to introduce you to our community.
Why Are We Doing This?
Our names are Chris Arnold and Jodi Marcucio. We are the owners of PhysicallyFit.
At PhysicallyFit, we are more than just 4 walls with some equipment. We are local fitness leaders who really care about our communities. During this stressful time, we are looking to deliver you some peace and happiness through fitness as an investment in the future of yourself, our community, & our business.
Contact our team at PhysicallyFit and schedule a remote consultation. We'll talk about your goals, your fitness history, your unique needs, and how we can make your goals happen. Our Online Training makes fitness accessible to your and your family!
Never Done Virtual Training?! Here Are Some Reviews:

I am so grateful for the continued support and training you have provided to keep us motivated and moving while at-home. The workouts are flexible, so I can adapt to whatever equipment I have, and they are challenging! They've been a lifesaver and have allowed me to focus on my physical and mental health in unusual (and somewhat stressful) circumstances. Thank you!
– Julie Stenz

PhysicallyFit/CrossFit Trumbull has been keeping me motivated through the COVID-19 pandemic. Chris and Jodi's workouts are easy to follow right from my home and with the different modifications they provide, there is something for everyone. I'm so happy that during all of this l've been able to count on their virtual workouts to work up a good sweat and keep my health and fitness goals first!
– Anthony Lauretti

THANK GOD for PF bootcamp! I just finished a class and I am so grateful that PhysicallyFit is offering classes via zoom. Keeping fit is not only important to me physically but I mentally NEED to work out for my sanity!!! I can't say that I am not having any bad days during this pandemic but the days I work out, I am mentally stronger. As I keep saying, I am not going to succumb to the "Quarantine 13". If you haven't tried a zoom class, what are you waiting for? It is simple to get on by just clicking the link in the email (if I can do it, so can you!). Do not let the workout that comes in the email intimidate you. Everything can be modified to accommodate what you have at home. Even if you don't have any workout equipment at home, you can easily modify to get in a great workout! Burpees do not require anything except you! Zoom is a great way to see your workout buds who are always great motivation!! Stay well friends, I'm hoping to see you all back at PF soon. Until then, join me on Zoom:)
– Tammy Rich

Now more than ever, it's become crystal clear that Chris, Jodi and the PhysicallyFit community mean so darn much to me. During this time, when I'm seeking any bit of normalcy and routine, getting to see (and workout with!) Jodi and Chris every day has been so meaningful and advantageous to me. I appreciate all their support and encourage now and always!
– Katie Flament

Needless to say, I was extremely disappointed not being able to attend live BC classes with my fellow 6 a.m.ers. Zoom has turned out to be the next best thing. Jodi and Chris are extremely motivating and the exercises can be done with little to no equipment. Having the ability to do the workout live or when time permits later in the day adds much needed flexibility.
– Lawrence Racioppo

Huge Shoutout to Jodi & Chris for continuing to motivate and inspire. From allowing us to borrow gym equipment, to their challenging WODs via Zoom, I feel as I have been able to resume some sense of normalcy & routine through these not so normal times. It's a pleasure working out with you guys.
Thank you!
– Anndee Lauretti
We Have Served The Community Since 2007. (And Now Our Community Needs Us More Than Ever)